Today, we're excited to announce you can now track your cryptocurrencies by connecting your Coinbase account to Wealthfront! We're especially excited because this has been one of our clients' most requested features.
You have always been able to connect a wide variety of account types and asset classes to our Path advice engine—from bank and brokerage accounts to real estate, mortgages, and student loans. But we know many of you like to dabble in other innovative financial products, like cryptocurrencies. So now, we make it possible for you to add information about your cryptocurrency holdings in your Coinbase account to Wealthfront to get a more holistic view of your financial picture. And even more importantly, we factor that information into your free financial plan.
Advice that keeps getting better
One of the most important advantages of a fully automated financial planning solution is it continuously improves as more data becomes available. And the great news is more relevant data becomes available via API (Application Programming Interface) every day. Access to your Coinbase account information is just the latest example. Over time you can count on us to incorporate far more data, from your accounts and third-party providers (like our recent announcement with Intuit's TurboTax), to deliver even better financial advice.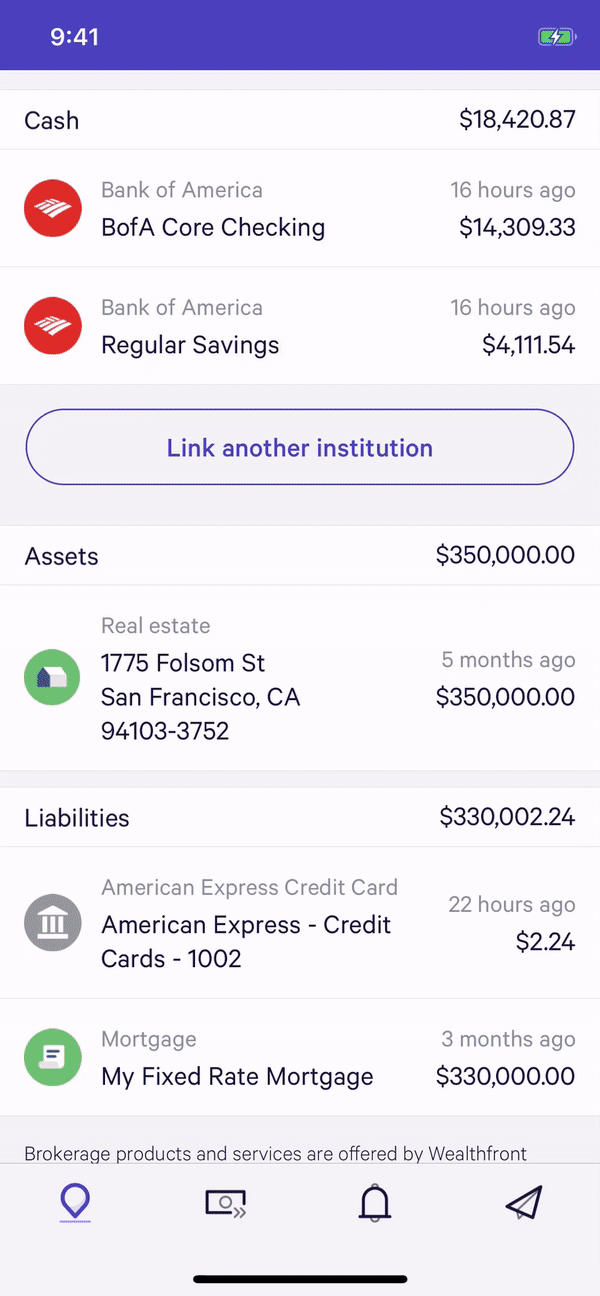 Your money on autopilot
We want to help you optimize and automate your finances to ensure you reach your unique financial goals. To achieve that vision, we need to incorporate a comprehensive and constantly updated view of your finances. That's why enhancements, like our new integration with Coinbase, are so important.
Disclosure
This blog is powered by Wealthfront Corporation (formerly known as Wealthfront Inc.). The information contained in this blog is provided for general informational purposes, and should not be construed as investment advice. Any links provided to other server sites are offered as a matter of convenience and are not intended to imply that Wealthfront Corporation endorses, sponsors, promotes and/or is affiliated with the owners of or participants in those sites, or endorses any information contained on those sites, unless expressly stated otherwise.
Wealthfront Corporation may from time to time publish content in this blog and/or on this site that has been created by affiliated or unaffiliated contributors. These contributors may include Wealthfront employees, other financial advisors, third-party authors who are paid a fee by Wealthfront, or other parties. Unless otherwise noted, the content of such posts does not necessarily represent the actual views or opinions of Wealthfront or any of its officers, directors, or employees. The opinions expressed by guest bloggers and/or blog interviewees are strictly their own and do not necessarily represent those of Wealthfront Corporation.
For any Coinbase accounts you choose to link, note that account balance information is not updated in real-time and is provided for informational purposes only. Cryptocurrencies are highly volatile and may lose value. Prices can change rapidly and the account balance shown may no longer be accurate. You should log into your Coinbase account to verify your current balance directly with Coinbase, particularly if you are considering any course of action.
© 2018 Wealthfront Corporation. All rights reserved. Please read important legal disclosures about this blog.
---